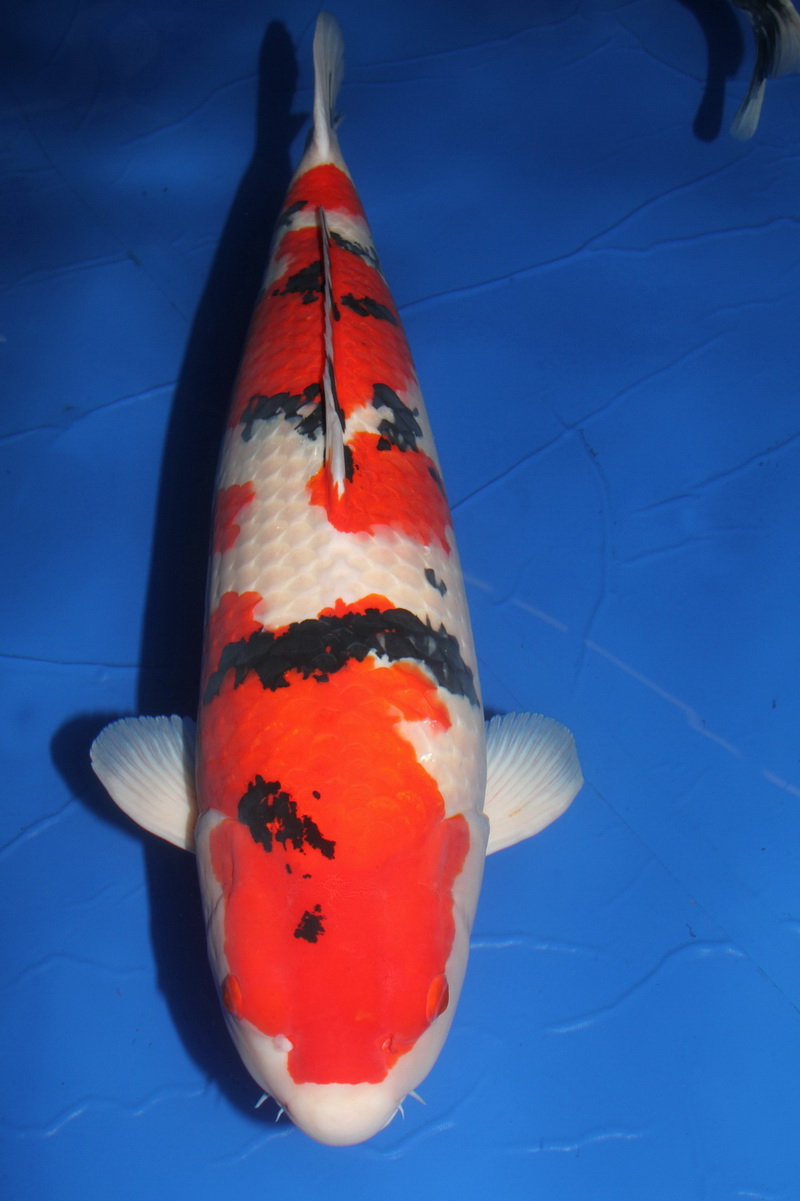 Grand Champion Sanke is experienced in the world of koi because he has already won some faith that prices in Europe, Jean Hoorne (Belgium) is the proud owner, Sakai Fish Farm is the breeder. The price awarded without much discussion among the members of the Jury, with four out of six votes against one another Sanke also Sakai Fish Farm has become the Supreme Champion owned by an Englishman (Graham Smith Bernal) established in Italy.
Grand Champion already an impressive indeed also win in the past Interkoi Grand Champion 2012 and Arcen 2012 (Holland koi show) Shinkokai Supreme Champion (Koi2000) also in 2012 and now Grand Champion Interkoi 2013, Interkoi koi show is the first of the year, we will have the opportunity to review this Sanke in other show this year.
This record is already building up a koi 6yrs and 89 cm which suggests other grand prize for the future, all our congratulations to Jean Hoorne which is one of the great figures of the top koi world in Europe.
When we arrived on Friday night, no one could say which would Sanke won the Grand Champion, but it was obvious that it would be one of the two as the quality of the one and the other outperformed the rest of the competitors, it is noted that 5 Sanke was present in size 8 that made this 2013 edition very interesting for lovers of koi show
In Interkoi 2013, big performance delivery Van Keulen (Holland) with Jumbo A, Young Later Champion, special koi for over 1m, he grew up in Holland, indeed a koi bought a 30cm which can has passed the meter in Europe, you can call it a performance.
Another Dutchman that distinguish Floors koi shop with mature Champion and Best Tategoi, Elna Koi (Belgium) won the prize of Adult Champion, The German does not rest with the Jumbo B Thosten Nagelsky, The Young Champion "Fish World" and Most Unique Koi for Koizentrale Tiemann.
In conclusion though, the bigger prizes are shared mainly between Belgium and Holland also noticed with Polish production Yoshikigoi who won no less than 7 price which is encouraging for the future.
But the French people has not unworthy of multiple awards for Normandy koi, Poisson d'or, Le koi, passion du poisson, les eaux de la Mulle, Kim's Koi and Koifram ND
2013 returned with visitors, many people have made the trip, grossing crowd compared to last year which is a good omen for the future of koi show that suffered from a lack of interest in recent years and although this gives courage to other organizers of Koi Show, the next events Shinkokai (Holland), Euregio (Holland) BKS (Belgium) and of course Holland Koi Show "Arcen" (Holland) without counting the multiple koi show England
Congratulations to all the winners and organizer of the legendary koi show Interkoi
I coming soon with Pics and video's
Patrick Vandael